A tasty, light entree which is delicious even outside of Lent!
Click HERE to order your monastery cookbook to find this recipe and so many others!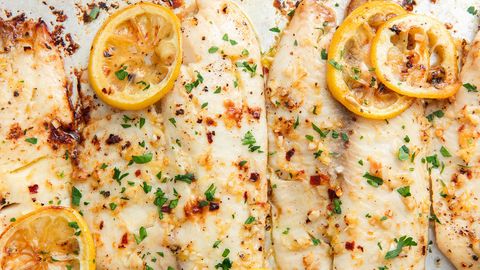 Ingredients:
4 tilapia filets
Kosher salt
Freshly ground black pepper
5 TBSP butter, melted
2 cloves garlic, minced
1⁄4 tsp crushed red pepper flakes
Juice and zest from 1⁄2 lemon
1 lemon, sliced into rounds
Freshly chopped parsley, for garnish
Instructions:
Preheat oven to 400°.
Season tilapia with salt and pepper (to taste) and place on a small baking sheet.
Mix together butter, garlic, red pepper flakes, lemon juice and zest, then pour over tilapia.
Place lemon rounds on top and around tilapia.
Bake tilapia for 10 to 12 minutes or until fish is fork-tender.