These are as impressive as they are delicious!
Click HERE to order your monastery cookbook to find this recipe as so many more!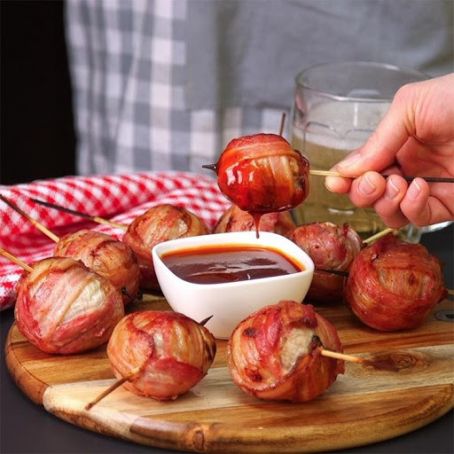 Ingredients:
2 lbs ground beef
1 cup bread crumbs
1 egg, beaten
1/2 cup milk
1/2 cup BBQ sauce
1 tsp salt
1/2 tsp garlic powder
3-4 medium/large onions
1 package of bacon (thick 1/2 cut peppered bacon is really good)
Instructions:
Preheat oven to 425°.
In a large bowl, combine the ground beef, crumbs, egg, milk, BBQ sauce, salt and pepper. Mix with your hands until thoroughly combined.
Cut top and bottom off of an onion, cut in half and peel off skin. Separate the onion into "layers".
Using the larger layers, stuff the meat mixture between 2 pieces of onion making a ball shape. Wrap each bomb with 2 or 3 slices of bacon and secure with toothpicks. (See picture.)
Place in a dish with sides to contain the grease. Bake for 40 minutes or until internal temperature reaches 165°
Serve with additional sauce if desired.
VARIATIONS: Use small onions to make into appetizers. Omit bread crumbs and use sugar-free BBQ sauce for a Keto friendly recipe.