This platter of golden fluffy perfect pilaf is so simple to make and positively lovely to eat. Often served as the showstopper at weddings in the days when rice was very expensive, pilaf was a dish reserved only for the most special occasions. Even now, when rice is readily available and very inexpensive, this humble dish will wow you every time.
Click HERE to order your copy of the monastery cookbook to get this recipe and so many more!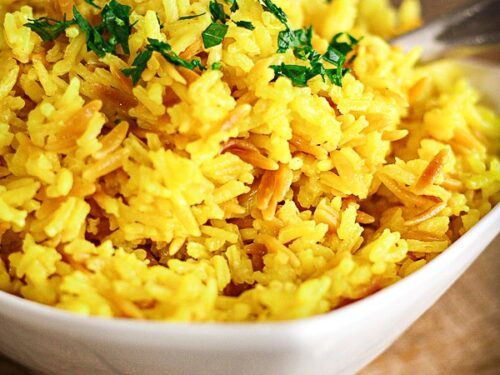 Ingredients:
1/4 cup olive oil

2 ⁄3 cup uncooked orzo

1 cup chopped onions

1-1/2 cups rice
1/2 cup slivered almonds

1/2 cup golden raisins

4 cups vegetable broth

1 tsp salt and pepper

1

cup chopped parsley
Instructions:
Heat olive oil in 3 quart, or larger, pan over medium heat.
Add orzo and cook, stirring often, for 2-3 minutes until orzo begins to brown.
Add onions, almonds and rice. Cook, stirring often, for 5 minutes. Watch your pan so ingredients don't burn!
Add golden raisins, vegetable broth and salt/pepper.
Stir well, bring up to a boil. Bring down to a low simmer, cover and cook for 20 minutes.
When done, uncover and fluff rice pilaf with a fork. Plate and garnish with chopped parsley.